Flint Hill Public House & Country Inn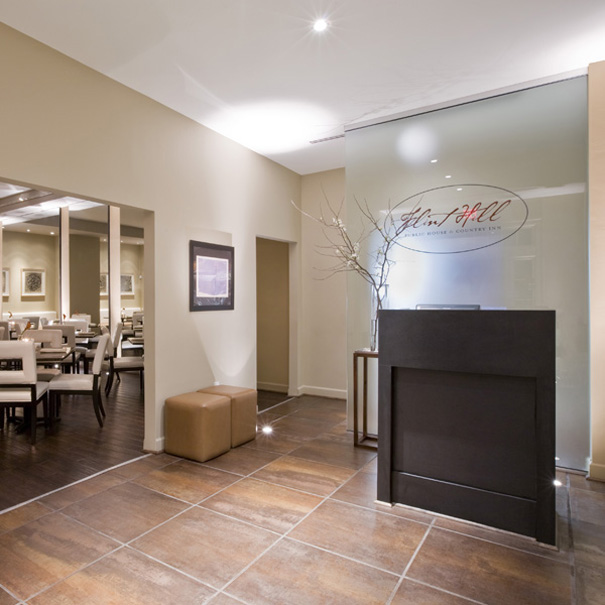 Excerpted from:
Inn Style
Virginia's latest deluxe destination has a storied past and a swank future.
By Sarah Crosland | DC Modern Luxury
When the cutting-edge Long View Gallery reopened in Blagden Alley three years ago, it helped transform a block, readying it for other chic venues to join the fray. Owner William Waybourn is set to do the same in Rappahannock County. Naturally, even a "country" inn with that kind of provenance will nod far more to an urban European aesthetic than rural Virginian. Waybourn saw a market for the young and sophisticated in DC who are seeking an escape from the city's bustle—but not its style. A homeowner himself in nearby Linden, Va., he found potential in the 100-year old Flint Hill Public House & Country Inn (flinthillva.com).
"We know that the house would require a lot of work," says Waybourn, who points out that, prior to his purchase, Flint Hill had been a school, residence and restaurant. "It had that yard sale aesthetic," says architect Ernesto Santalla, describing the space's former outdated wallpaper and fluorescent lighting typical of a Bed and Breakfast. Inspired by his travels to European boutique hotels, Santalla went to work overhauling the interior to create a destination that's both sophisticated and soothing.
Concerned that major exterior changes would bother locals, the duo decided to keep the view-from-the-road adjustments minimal. Santalla opened the space by relocating the interior staircase to the far right side of the house, offering privacy for guests coming and going. Waybourn chose a fire-engine red front door as an obvious welcome signal. While four suites cater to overnights, Santalla's signaure modern décor brings neighbors in daily to the stunning restaurant. Visiting urban dwellers feel as comfortable in the bar sipping artisan cocktails under a FontanaArte dome light as they do pulling up a stool for a beer and the chance to catch the game on the built-in flat panel television.
The organic color palette of ebonized wood, white leather and caramel accents throughout the two-story space results in a look that's more Hollywood glamour than unforgiving minimalism. "This does away with the preconceived notions that country inns have to be all Laura Ashley patterns and frilly curtains," says the Georgetown-based principal of Studio Santalla.
And there's a benefit from slumbering in a spot imagined by a gallery owner. Like the painting above your dining table or photograph next to your bed? They're for sale. "We offer a six-page walking tour of the building that tells about the artwork," says Waybourn, who already has offers on several pieces. Makes sense, considering Long View Director Drew Porterfield curated the space to ensure each piece of enhanced the inn's halcyon ambience. "We never wanted anything to look busy," says Santalla. "We're all in information overload already. This is where you go to unwind."
Photography by Geoffrey Hodgdon