H2O | Renovation in the historic Watergate building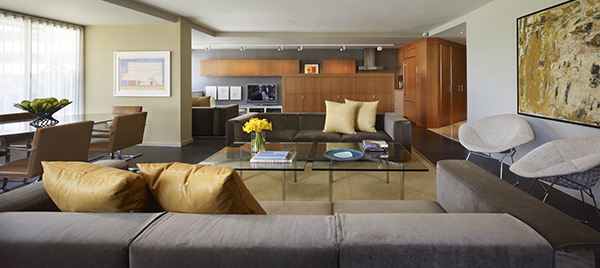 excerpted from: FULL POTENTIAL
A design team breathes fresh ideas into a renovated Watergate apartment
BY DEBORAH K. DIESTCH | PHOTOGRAPHY BY ALAN KARCHMER | PHOTO STYLING BY SANDRA ANN BENEDUM
JANUARY/FEBRUARY 2012
Once ridiculed as "antipasto on the Potomac," the Watergate complex designed by Italian architect Luigi Moretti has become one of Washington's most respectable addresses. But its curvaceous 1960s architecture still poses design challenges for residents seeking to transform their outdated apartments for contemporary living.
Inside, the living area now extends from the terrace door to the kitchen and an adjoining nook for watching TV. Like ground squirrels emerging from their burrows, the homeowners' heads can be seen popping up from behind the four-and-a-half-foot-high island that serves to partially screen the kitchen from the living area. The parquet floors and modern furniture can be found in multiple rooms, and the modern kitchen is now completely open.
"A neutral color scheme allows sculptural objects, in this case the iconic furniture and artwork to stand out," says the designer. "An element of contrast, such as a tone or a texture, adds richness to the palette."
In the master bedroom, Studio Santalla [now Ernesto Santalla, PLLC] designed the platform bed frame with attached nightstands and added upholstered panels to the adjacent wall to create an oversized headboard. A television stand was designed for the adjacent wall that allows the screen to swivel so it can be viewed from either the bed or terrace.