Room for Two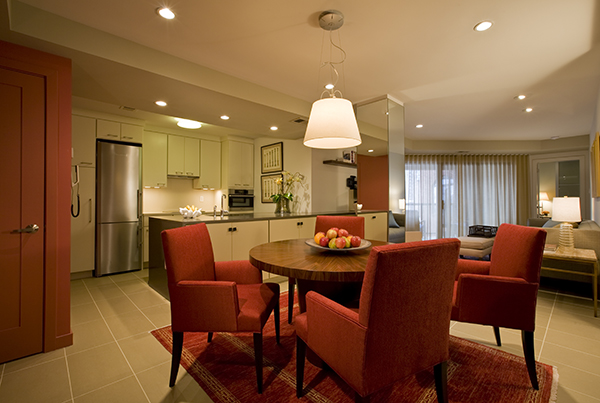 Adapted from The Washington Post
By Nancy McKeon
March 18, 2011
"Inhabit: A remodel that makes room for two"
Gina Farinas faced a remodeling challenge with her small two-level Arlington condo: It would be easy enough to open up the space to seem larger, but how could she make it feel more expansive while accommodating a new roommate – and allowing privacy for both of them?
Answering that triple-sided challenge was Georgetown architect Ernesto Santalla, whose solution involved elimination of some walls, visual tricks to suggest an expanded space and multifunctional furniture and built-ins to provide genuine comfort and privacy.
Farinas, 58, and Norma Samson, 72, retirees from the International Monetary Fund and longtime friends, hoped that sharing Farinas' home would be a practical living arrangement. Samson could no longer navigate the stairs in her own two-level condo down the hall and no longer wanted to live alone. But the women sought to maintain some of the privacy each had enjoyed while living solo.
Santalla's charge, to create living quarters for Samson, could be accomplished by repurposing the tiny room at the rear of the living room that Farinas used as an office and catch-all space. As luck would have it, it already had an en-suite bathroom. But even the preexisting room required thought to make things "more fine-tuned to my needs," as Samson puts it.
One issue was the size of the room and the super-comfortable adjustable Tempur-Pedic foam bed Samson wanted. Santalla was able to snugly fit a twin-size bed lengthwise against the side wall of the room, where it basically filled the space, then built an upholstered back and arms around it so it took on the look of a daybed. An upholstered panel that runs across the bottom front hides the adjusting mechanism – and the diminutive Samson steps on it to climb up into the high bed.
First to go was the chopped-up look. Down came the upper portion of the pass-through wall separating the kitchen and dining foyer. That meant losing the upper cabinets on the kitchen side. To compensate, Santalla made the counter deeper, extending it into the dining area and incorporating semi-custom cabinets with a satin lacquer finish below.
The women are clearly delighted with their shared nest. Samson is now Farinas's renter ("Ooh, and my rent is late," chirps Samson early in February). The only problem is that Farinas now wants the same level of attention and quality of finishes in her upstairs bedroom and bath. For the moment, she's letting her checkbook cool off, but that's the next phase of life in this Arlington condo, now made for two.
Photography by Geoffrey Hodgdon