Tranquility | Office of Studio Santalla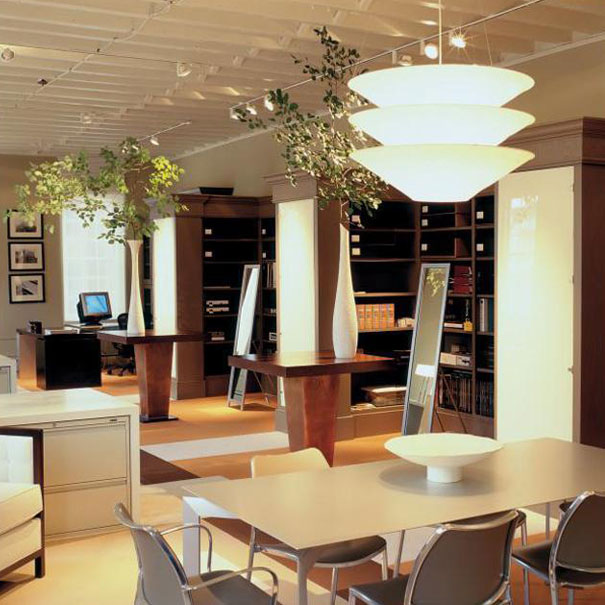 Adapted from Spaces Magazine
An Award Winning Architect's Oasis—Creating Calm in the Middle of Georgetown
By Trish Donnally, Photos by Tass Mimikos
The intersection of M Street and 31st is one of the busiest in Georgetown. But enter the second floor office of Architect Ernesto Santalla, which is at this corner, and you'll find calm quarters. This open, tranquil space, awash in natural light from large windows on two sides, 12-foot ceilings, bookcases lining one wall, and a neutral color scheme is spiced with warm orange accents.
"It's very important to me that whoever comes in this office feels comfortable. Working with design professionals can be intimidating, so I want to do everything I can to put people at ease," says Santalla, who recently won an Award of Merit in Interior Architecture from the Washington Chapter of the American Institute of Architects for the design of his office.
An unexpected mix of furnishings throughout Studio Santalla span from custom pieces that he designed and chairs from Design Within Reach, to finds from IKEA, Home, Expo, and Hold Everything.
"We practice that in our projects as well. It's where can you get the best value for what you need and it's how everything comes together that's important. It's not so much the individual pieces," Santalla says.
While the floor plan of this former bookstore is open, different design elements distinguish different parts of the office, specifically the entry, meeting area, and workstations. Santalla's custom carpet design pulls the office together.
A custom bookcase and bench that Santalla designed, a John Saladino glass and aluminum coffee table, two black Eames chairs, and work of art called Fat Red Lips by Cuban Artist Choco greet you in the entry.
Santalla selected ash wood because of the grain for the simple bookcase and bench, then stained them both espresso brown. "If you don't have texture in the wood and you stain it or paint it, it becomes very bland," he says. The whole piece beautifully frames Choco's artwork.
"Since I'm Cuban, I was very excited to meet a Cuban artist. It struck me when I met him that I don't know people who have lived in Cuba, I only know people who have left Cuba. I'm very proud to have that in my office," says Santalla, who fled Cuba in 1963.  After living in St. Louis, MO and San Juan, Puerto Rico, then graduating from Cornell University, Santalla settled in Washington, where he has worked for more thatn 20 years. He established Studio Santalla in December 2010.
The meeting are in Santalla's office includes a custom ash and aluminum credenza that he designed, a white club chair y Michael Vanderbyl for Baker, and a sleek contemporary aluminum table and chairs from Design Within Reach. "Flotation," a dramatic triple-tiered white paper shade fixture by Ingo Maurer, gently lights the area.
Most of the light in the office comes from the low voltage track lighting. "You can have a beautiful space, but if it's not well lit, it doesn't work," he says. "There's nothing like low voltage lighting. The beauty of color in low voltage lighting is amazing.
Three large white oak partner's desks that Santalla designed march along one window-lined wall. Santalla bought the computer desks that are perpendicular to the partners' desks at Crate & Barrel. The desk accessories are from Hold Everything, IKEA, and Staples. Santalla's nearby custom designed desk is tucked into an alcove formed by bookcases.
The architect created two dramatic tables, pictured above, using copper planters from Smith & Hawken, for which he had oak tops and bases made. The carpet, manufactured by Masland, is broadloom that Santalla had pieced together to highlight different details in his office. White rectangles in the carpet, for instance, continue the line of the bookcases, windows, and workstations onto the floor. The carpet design connects the space.
Framed black and white photos that Santalla has taken reflect his travels. Just as he focuses on light, shadow, form, and function for his photography, so has he done for his studio. He and his two associate architects find their workspace and inspiring. Santalla says, "It's really conducive to a lot of creative energy."